Remote Cottages in the Lake District

The Lake District is a haven for anyone looking to escape on a break in the United Kingdom, with its incredible scenery of mountains, waterfalls and of course, lakes. Away from the bustling cities of England, this natural gem located in the north-west of the country has seclusion and isolation at hand, where you can relax in blissful peace and quiet and wake up to the sounds of nature instead of the loud, rattling alarm clock! Renting a self-catering cottage in a remote part of the Lake District is the perfect way to truly experience this isolation, where you and your loved one or friends and family can explore your surroundings at your own pace away from the crowds of some of the more popular villages of this stunning part of Cumbria.

Remote cottages in the Lake District are set in areas where even small settlements of people are miles away, and where nature truly is your neighbour. Whether your cottage is perched near to England's tallest mountain, Scafell Pike, or set by the banks of the deepest lake in the country, Wastwater, remote cottages in Lakeland are guaranteed to be in a region of awe-inspiring nature. There are plenty of cottages available to rent in the Lake District which are buried deep in the middle of an enchanted forest, where the soaring trees hide your whereabouts and where bright-coloured flowers dot your path through the thickets, and choosing to stay in one of these lodges is a brilliant idea if seclusion and privacy are what you need on a trip to the Lake District.

Facilities and amenities in these cottages are no different from those located in the heart of some of the most highly populated towns and villages in the Lake District. With flat screen television sets, DVD players, Wi-Fi, hot tubs and fully-equipped kitchens, everything you need will be at hand to make your break as enjoyable as possible. The lodges are also decorated in a stylish yet comfortable way, and many come with log fires, wooden beams running along the ceilings and of course, soft bed furnishings. These remote cottages make a perfect romantic holiday for you and your partner if you are looking to go on a special trip to the Lakes.

Although remoteness and isolation may be at the top of your priority list on a cottage holiday to the Lake District, there are also plenty of interesting towns and villages to visit in the district, where you can soak up a bit of the local culture and history. One of these villages is Satterthwaite, located in the Grizedale Forest which still provides the settlement with an element of seclusion. With stunning scenery, farm houses and a close-knit population, Satterthwaite is home to several fantastic nature trails and walks, and exploring the Grizedale Forest is a must on a visit here.

Having a cottage break in a remote part of the Lake District will be a trip of a lifetime if you wish to truly be immersed in the most stunning scenery in the UK.
Special offer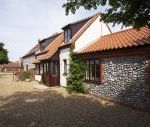 Originally 1145 GBP, Now 895 GBP
Find out more about available dates